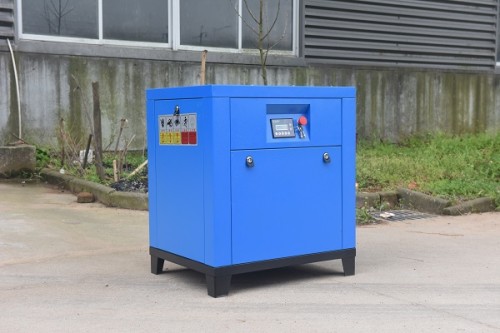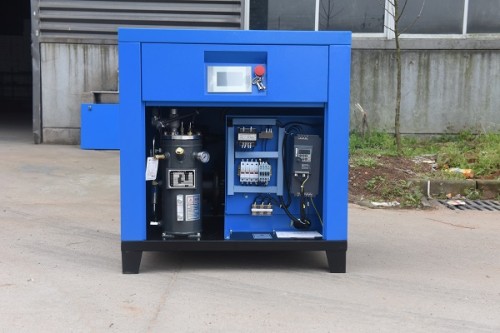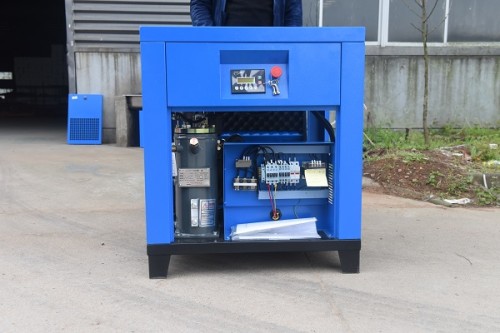 Rotary screw air compressor 138cfm
Item specifics
pressure

0.8mpa
voltage

380V
displacement

3.0m3/min
power

22kw
Description
Electric rotary screw compressor
Rotary screw air compressors are a newer, improved type of air compressor. They are more expensive than traditional reciprocating models but have numerous benefits that are quickly making rotary screw air compressors the system of choice for service truck and van fleet managers around the world.
Rotary screw air compressors operate by trapping air between two meshed rotors and reducing the volume of that trapped air as it moves down through the rotors. This reduction in volume results in compressed air, which can then be used to power air tools, inflate tires, or in numerous other applications.
Advantages of Rotary Screw Air Compressors
Rotary screw air compressors have many benefits that make them ideal for both mobile and standalone applications. As a result, you'll find rotary screw air compressors on vehicles and trailers, as well as in industrial, production and medical facilities, where high-quality equipment is required.
The benefits of rotary screw air compressors over other compressor types include:
Continuous airflow/100% duty cycle

Larger quantities of air

Higher CFM per hp

Longer lifespan

Better warranties

Quieter

Energy efficient
| MODLE | KW | M3/MIN | MPA |
| --- | --- | --- | --- |
| QK-7 | 5.5 | 0.6 | 0.8 |
| QK-10 | 7.5 | 1.1 | 0.8 |
| QK-15 | 11 | 1.5 | 0.8 |
| QK-20 | 15 | 2.3 | 0.8 |
| QK-25 | 18.5 | 3.0 | 0.8 |
| QK-30 | 22 | 3.6 | 0.8 |
| QK-40 | 30 | 5.0 | 0.8 |
| QK-50 | 37 | 6.2 | 0.8 |
| QK-60 | 45 | 7.0 | 0.8 |
| QK-75 | 55 | 9.2 | 0.8 |
| QK-100 | 75 | 12.6 | 0.8 |
| QK-120 | 90 | 15.0 | 0.8 |
| QK-150 | 110 | 19.8 | 0.8 |
| QK-175 | 132 | 23.2 | 0.8 |
| QK-200 | 160 | 27.6 | 0.8 |
| QK-250 | 185 | 30.4 | 0.8 |
| QK-300 | 220 | 34.3 | 0.8 |
| QK-350 | 250 | 42.0 | 0.8 |