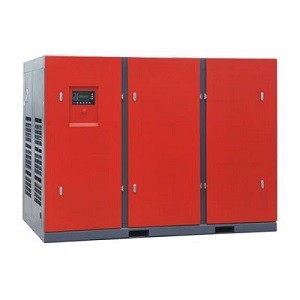 Item specifics
Air displacement

20m3/min
Pressure

0.8mpa
Power

110kw
Description
A rotary screw air compressor enacts positive displacement using twin spiral screws. An oil-flooded system, the more common type of rotary screw compressor, fills the space between the helical rotors with an oil-based lubricant, which transfers mechanical energy and creates an air-tight hydraulic seal between the two rotors. The atmospheric air enters the system, and the interlaced screws push it through the compressor. We manufacturers a full line of industrial sized rotary screw air compressors built to meet the demands of your business.
rotary air compressor line is specifically designed to provide reliable compression in the most challenging applications. The Airlogic 2 advanced control enables the compressor to operate with maximum efficiency. With a sound level as low as 66 dBA, you're assured of quiet operation.
Our product line includes 5-30 horsepower belt screw air compressor models that include a long-life V-belt drive, high–efficiency intake filter and a robust motor. The standard quiet enclosure is designed to reduce vibration and noise levels. The eight-thousand-hour premium synthetic fuel features a low oil carryover. An integrated dryer and tank mount option is also available.
Alarm with automatic warning fuction.Hign temperature alarming(105℃).Fault alarm for pressure and temperature sensors.Warning system for the repacement time for oil,oil filter, air filter and oil separator.
Advantages of Rotary Screw Air Compressors
Rotary screw air compressors have many benefits that make them ideal for both mobile and standalone applications. As a result, you'll find rotary screw air compressors on vehicles and trailers, as well as in industrial, production and medical facilities, where high-quality equipment is required.
The benefits of rotary screw air compressors over other compressor types include:
Continuous airflow/100% duty cycle

Larger quantities of air

Higher CFM per hp

Longer lifespan

Better warranties
| MODLE | KW | M3/MIN | MPA |
| --- | --- | --- | --- |
| QK-7 | 5.5 | 0.6 | 0.8 |
| QK-10 | 7.5 | 1.1 | 0.8 |
| QK-15 | 11 | 1.5 | 0.8 |
| QK-20 | 15 | 2.3 | 0.8 |
| QK-25 | 18.5 | 3.0 | 0.8 |
| QK-30 | 22 | 3.6 | 0.8 |
| QK-40 | 30 | 5.0 | 0.8 |
| QK-50 | 37 | 6.2 | 0.8 |
| QK-60 | 45 | 7.0 | 0.8 |
| QK-75 | 55 | 9.2 | 0.8 |
| QK-100 | 75 | 12.6 | 0.8 |
| QK-120 | 90 | 15.0 | 0.8 |
| QK-150 | 110 | 19.8 | 0.8 |
| QK-175 | 132 | 23.2 | 0.8 |
| QK-200 | 160 | 27.6 | 0.8 |
| QK-250 | 185 | 30.4 | 0.8 |
| QK-300 | 220 | 34.3 | 0.8 |
| QK-350 | 250 | 42.0 | 0.8 |