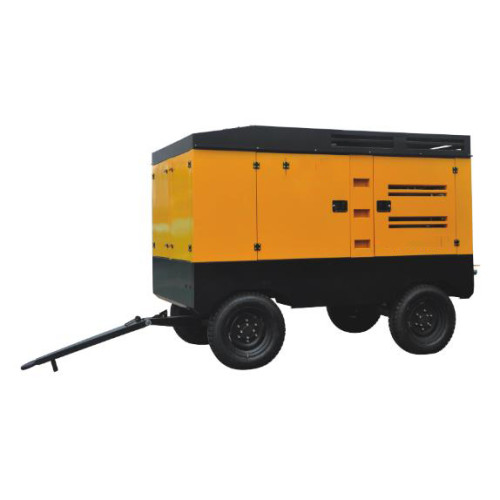 Diesel portable screw compressor yuchai engine560CfM 17BAR
Item specifics
Displacement

16m3/min 560 CFM
Pressure

17Bar
Power

Yuchai 140kw
Type

Four wheels
Description
TROLLEY MOUNTED COMPRESSORS 185-1200 CFM
portable trolley mounted diesel air compressors are reputed for their reliability and ruggedness. Available in single and two stage models. They are used in a wide range of applications ranging from jack hammers, rock drills, impact wrenches and chipping tools to sand blasting.
Diesel portable air compressor advantage
Heavy duty diesel engine Cummins for extended operation

Excellent components,for example ,Siemens electronics for high performace.

Automatic operation system helps operator to master the operating skills quickly,unattended operation and remote control are availabe

Conform to ISO9001 and energy saving cetificate etc

Applications:mining,hydropower,oilandgas exploitation,borehole,shipyard,construction,chemical industry,quarry,sandblasting,pipeline pressure test,public works etc .
Diesel portable screw compressor
Modle
Type
Power kw

m3/min/pressure
Oil volume
QKCY132KF-13
four wheel
cummins132
15/13
64L
QKCY140SF-13
four wheel
yuchai140
15/13
64L
QKCY165S-13
four wheel
yuchai162
17/13
64L
QKCY140ES-8
four wheel bipolar compression
yuchai140
20/8.
80L
QKCY140ES-13
four wheel bipolar compression
yuchai140
18/13
80L
QKCY140ES-17
four wheel bipolar compression
yuchai140
16/17
80L
QKCY162ES-18
four wheel bipolar compression
yuchai162
15/18
80L
QKCY180ES-18
four wheel bipolar compression
yuchai177
18/18
90L
QKCY180EK-18
two wheel bipolar compression
cummins180
18/18
90L
QKCY194EK-8
four wheel bipolar compression
cummins194
34/8
90L
QKCY194EK-18
four wheel bipolar compression
cummins194
20/18
90L
QKCY230ES-8
four wheel bipolar compression
yuchai228
36/8
96L
QKCY230ES-20
four wheel bipolar compression
yuchai228
20/20
96L
QKCY295
four wheel bipolar compression
yuchai295
26/25
96L