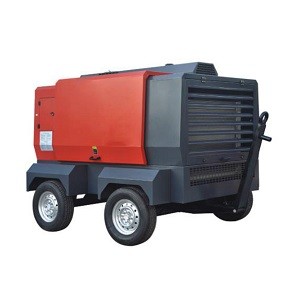 Electric portable screw air compressor 595CFM 12BAR
Item specifics
Air displacement

17m3/min 595CFM
Pressure

12bar
Power

110kw
Description
ELECTRIC LUBRICATED SCREW AIR COMPRESSOR
ELECTRIC SERIES SCREW AIR COMPRESSOR
Qiankun's ELECTRIC series rotary screw air compressors represent a giant leap in design and performance, with every single component designed for reliability and ease of maintenance. Each screw air compressor is designed and manufactured in compliance with applicable international standards
Electric portable air compressor advantage
Full opend design

The full opend design is more humanized than the gull wing type design ,and also easier for maintance and repair.

Low transportation cost

Small in size,light in weight,easy to transport and move and also space saving

Operating Crank design

Humanized operating crank deisgn ,which is easy to connect with the power equipment,save both time and labor.

Cold box design

Cold box design ensures the low temperature inside the compressor unit.
Portable Electric Screw Compressor
Modle
Ttype
PowerKW
m3/min/bar
Oil volume
Remark
QKDY18.5-6
IP54
18.5
3/6
16L
belt
QKDY22
IP54
22
3.6/6
16L
belt
QKDY30
IP54
30
4.6/8
16L
belt

QKDY30
IP54
30
5/8
32L
direct driven
QKDY37
IP54
37
6.2/8
50L
direct driven
QKDY75F-8
IP23
75
13/8
60L
Wide voltage soft start can customerize
QKDY90F-8
IP23
90
16/8
60L
Wide voltage soft start can customerize
QKDY90F-14.5
IP54
90
13/14.5
60L
Wide voltage soft start can customerize
QKDYL110-8
IP23
110
20/8
80L
Wide voltage soft start can customerize
QKDYL110-13
IP23
110
15/13
80L
Wide voltage soft start can customerize
QKDYR110-13
IP23
110
15/13
80L
Wide voltage soft start can customerize
QKDYL110-17
IP23
110
12/17
80L
Wide voltage soft start can customerize
QKDYL132-8
IP23
132
24/8
80L
Wide voltage soft start can customerize
QKDYL132-13
IP23
132
20/13
80L
Wide voltage soft start can customerize
QKDYL132-17
IP23
132
16/17
80L
Wide voltage soft start can customerize
QKDYL90E-8
IP54bipolar compression
90
20/8
96L
Wide voltage soft start can customerize
QKDYL90E-13
IP54bipolar compression
90
17/13
96L
Wide voltage soft start can customerize
QKDYL90E-17
IP54bipolar compression
90
13/17
96L
Wide voltage soft start can customerize
QKDYL110E-13
IP54bipolar compression
110
20/13
96L
Wide voltage soft start can customerize
QKDYL110E-17
IP54bipolar compression
110
16/17
96L
Wide voltage soft start can customerize
QKDYL132E-8
IP54bipolar compression
132
28/8
96L
Wide voltage soft start can customerize
QKDYL132E-14
IP54bipolar compression
132
24/14
96L
Wide voltage soft start can customerize
QKDYL132E-18
IP54bipolar compression
132
20/18
96L
Wide voltage soft start can customerize